Map and Directions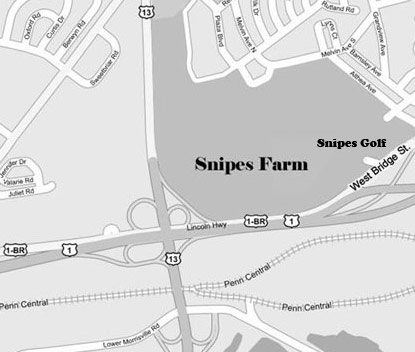 From the Pennsylvania Turnpike:
Exit 351 (Old Exit #28 - Philadelphia, US-1, I-95) Get onto US-1 North Go 12 miles and get off at the Morrisville Exit (PA SR 32 North, left hand exit) At bottom of ramp, make a U-turn (yes, it's legal) Snipes Farm is on the right, after the U-turn
From Philadelphia and Princeton, NJ via I-95:
Take Exit 46A (Old Exit #29A – Morrisville, Oxford Valley Mall, Sesame Place, US-1 North Proceed approx. 4 miles and get off at the Morrisville Exit (PA SR 32 North, left hand exit) At bottom of ramp, make a U-turn (yes, it's legal) Snipes Farm is on the right, after the U-turn
From Trenton via US-1 South Toll Bridge:
After the toll bridge, take the first exit (Morrisville, Pennsylvania Ave. North) At the first light, make a left onto West Bridge St. Snipes Farm is one mile down on the right.

Snipes Farm
Snipes Farm and Golf
890 West Bridge Street
Morrisville, PA 19067
Phone 215-295-1138
Email info8@snipesfarm.com
Pick Your Own
Blueberries, Blackberries, Apples, and Pumpkins. Click here.