For information on CSA Shares
About Snipes Farm and Education Center
All educational and agricultural activities held on Snipes Farm are now sponsored by Snipes Farm and Education Center, a new 501(c)(3) non-profit organization. Our mission is to model and teach sustainable farming while building community and reconnecting people to the land. Please visit our website at www.snipesfarm.org
Corporate Events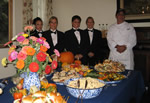 Find out how your group event held at Snipes Farm promises unique entertainment and team building experiences in a beautiful natural setting!

Snipes Farm Presents
Hold Your Event Here
Snipes Farm is an ideal setting for your event. Corporate Events, Weddings, Family Reunions, and Camps. Click here for more information.